Facilities, Grounds & Equipment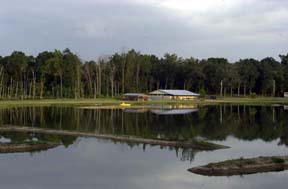 The kennels are located on 30 gorgeous acres just outside Jackson. The kennel attracts all dog breeds from the Jackson Metro area, throughout Mississippi and from surrounding states. Continued growth during the post field trial years gave solid proof that the idea for a dog training and boarding facility was a sound one. The present kennel facility was built on Kickapoo Road in 1986 and recently remodeled in 2000.
We provide both indoor and outdoor runs constructed of the best kennel materials on the market.All dogs are comfortably housed in spacious concrete runs which are cleaned and disinfected daily. Fresh water and top quality, adult performance dog food is supplied daily.
A variety of dog training equipment is utilized during our training sessions to improve your dog's learning experience. We also utilize the efficiency of ATV's during our training to maximize our time spent with your dog.