What began as a college student's hobby, training labs to hunt, turned into a full-time occupation and has grown into success for thousands of dogs and their owners?
John Kabbes, founder of Blue Ribbon Kennels, became aware of the need to create an obedience centered school as well as a premier boarding facility. With this in mind. John and Carol began developing grounds on site for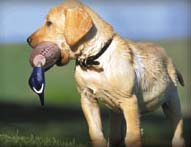 the training of retrievers as hunting companions. In the early years, John focused on training retrievers to compete in field trials as well as companions for duck and dove hunters. He traveled nationally campaigning dogs for their owner's and enjoyed much success. In 1990, a prize dog, FC-AFC High Country Porky,s brought him to the pinnacle of his field trial career by finishing the National Open Competition in St. Louis, MO.
Family life has always been important to John, so he decided to cease trials and cross country traveling. With that tough decision behind him, John and Carol began concentrating on improving the facilities at Blue Ribbon Kennels.